This has been kinda a crazy week, very fast paced, very busy. And to think it isn't over yet.

I have been thinking about how hard it is for me to create something lately and how bored I have been for about a week with the whole Scrapbooking thing. Me?? Bored with Scrapbooking? OMG....the end of the world must be near. I don't think I have felt like this ever. Every day, when I am just living my life I am scrapbooking. I am looking at things and seeing designs. A person walks by and the color of her blouse is inspiring to me. I see scrapbooking everywhere. It was the one thing I always felt I never had enough time to do as much as I wanted. No more. Not this week. Maybe it is because it is hard right now and is not flowing like it usual is. Or maybe, I am so tired of seeing the same old stuff. I haven't even been surfing the 2peas site as much because it is monotonous. Everyone is starting to look the same. So, this morning as I was just feeling this blaise feeling toward my once beloved art, I thought to myself, "Self, you need to shake this thing, go find some passion." And I did. I looked at the 2peas website and found inspiring designers. Stuff that makes me want to go home now and scrap. They all have one thing in common.... Beautiful Simplicity.
I think it is because I am striving to achieve that in my life now that I am so drawn to it in my art. I love it. It is calming and serene.

The first one is Gina Cabrera. She is wonderful. So much feeling behind her layouts. She has wonderful journaling and incredible pictures.
The second is Kerri Lynne. Her combinations of color are perfection. She uses all great papers and combines them to create wonderful layouts. She needs to create more multi-photo layouts, but she has a few now.
The third is COOP. I can't think of this girl's name (I am terrible with names), but I remember the first time I saw one of her layouts in a magazine. It included a picture of her and her child and I thought she was the sister. Man, she looks young. She does what I would refer to as real layouts. These are layouts that are great and that everyone can do.

Ok, so that is my Scrapper's rant for the day. I hope to make some stuff this weekend, now that I can feel the block lifting just by looking at these layouts.

On to my new blog spots. I know I forgot one yesterday, but this list will easily make up for it. I was looking through the blogs and found quite a few celebrity blogs besides Zach Braff. I was cracking up at some of the "celebrities" that have them and wondering who was reading these things. So, here are a few, see if you feel the same.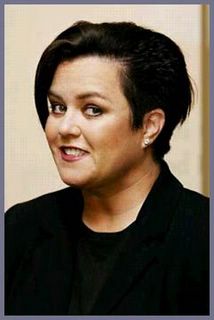 Ru Paul

- If you don't remember who this is, I have posted a photo. This blog is actually very entertaining. What I found most entertaining was that he/she recently had dinner with Mickey Rourke. Could you imagine that? Mickey and Ru sitting done for a nice dinner...what the hell would they talk about?
So, if you find yourself with some time on your hands this weekend...Scrapbook, read some useless blogs or heck make up some lists and goals. That can always kill about an hour. Next week, I am going in search of the best ways to kill 6 hours on the web. This will take careful research.