Today's technique features Simple Scrapbooks Schemes. These are little blueprints for your layouts that are exactly like the Becky Higgins sketches. Because it is featured in Simple Scrapbooks, these schemes are almost exactly Becky's style...simple. What is great about these little maps is that there is no thinking involved. You just follow the sketch exactly as it is filling in the pictures, journaling and embellishments where it has been predetermined. So, step one is to pick a sketch. In Becky Higgin's book, Sketches, it is clearly divided in sections so that you can easily determine which sketch to use based on the number of pictures you have. Brilliant!!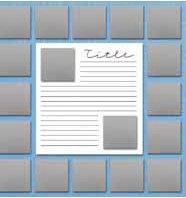 Step two is to follow the guide. So, instead of 12 photos around the page, I used patterned papers to match. I didn't have enough photos, so the paper has to fill in.



Voila! Simple. Easy. Wonderful. And you can do a layout in about 15 minutes! I love to do these when I have a little scrappers block. I quickly do a simple layout like this or scraplift a layout, just to get past the block. I think once you sit down and start to scrap, then it begins to come back to you.
All the Becky Higgins sketches are available online as well.....HERE.
And every month CK magazine asks for submissions to the column, One Sketch, Many Looks.